ALL ROIR CD'S, VINYL AND MERCHANDISE IS NOW AVAILABLE TO STREAM AND PURCHASE THROUGH BAnDCAMP!!!
Oct. 3, 2018 - Martin Rev will be performing at the Murrmrr Ballroom in Brooklyn this Saturday 6th, October.
As half of legendary proto-punk, electronic duo Suicide, Martin's influence can not be overstated. As well as releasing 2 Suicide albums, ROIR also released Martin's self-titled and 'See Me Ridin' albums.
Stream/Buy/Download Martin Rev music here!
Sept. 25, 2018 - Jamaican singer and Internationally acclaimed Nyahbinghi master drummer, Ras Michael will perform with his band Sons of Negus on Oct 12-14 at the Richmond Folk Festival!
In 1989, ROIR released a cassette tape of Ras Michael remastered dubs called Rastafari Dub. The recording features Jamaican music heavyweights Peter Tosh, Robbie Shakespeare, Earl 'Chinna' Smith, Tommy McCook and Geoffrey Chung. It's still available to stream and buy on CD and Vinyl here!
James Chance and the Contortions
Sept. 5, 2018 - The original New York, No Wave pioneers, James Chance and the Contortions will be hitting the West Coast next week to play at Zebulon in Silverlake, Los Angeles. A second show has just been added due to popular demand with tickets on sale now!! Click the pic for the link.
10 Ft. Ganja Plant Playlist and Show!
Aug. 29, 2018 - 10 Ft. Ganja Plant have been cooking up some of the finest Roots Reggae music for almost twenty years. We have curated a special playlist that takes a look across their impressive catalogue of tunes to celebrate and appreciate their uplifting and valuable contribution to the Roots Reggae genre.
Featuring twenty cuts from all ten ROIR albums. From their debut release 'Presents', up to the third and final installment of the mighty '10 Deadly Shots' trilogy - it's all here, for you to enjoy!
Also, just announced 10 Ft. are playing a FREE live show on 7th September, 2018 as part of the South End Art Hop in Burlington, Vermont.
July 18th, 2018 marked the 30th Anniversary of 60s' and 70s' supermodel, singer and pop icon Nico's death. This year, a film titled Nico, 1988 will also be released. More about the film can be read here.
In 1982, we released a cassette tape of live tracks from Nico's 1982 European and London tour. Songs from her albums "The Marble Index", 'Desertshore' and 'The End' all feature as well as covers of David Bowie, The Doors and of course The Velvet Underground's 'All Tomorrow's Parties' of which there is an incredible a capella version. The album was later released on CD.
July 11th, 2018: We're featured today on Bandcamp daily! Wanna read more about some of our favorite releases and the history behind them? Click here!
October 6th, 1948 - May 13, 2018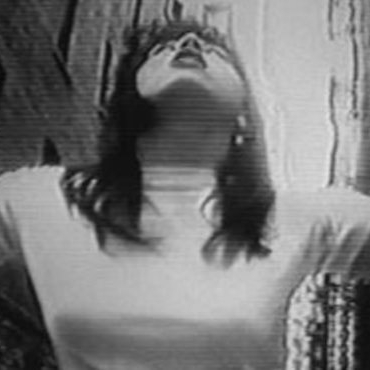 The Kitchen 2018 Spring Gala Benefit!
April 18, 2018: This year on May 16, The Kitchen in NYC will be honoring photographer Nan Goldin and Lydia Lunch. This special event will also include performances by NYC Downtown legends Bush Tetras and James Chance! Click on the image for ticket and event information. Also get a taste of the NYC downtown music scene by streaming our specially curated playlist here!
DECEMBER 9TH, 2017 - Joe Tomino, powerhouse drummer for Dub Trio and Matisyahu was recently interviewed by SF Sonic. Click here to read!
NOVEMBER 25TH, 2017 - Specially curated playlists are now live on our 'STREAMING' page! Follow us on Spotify for regular updates. First in our ROIR Guestlist Series is 10Ft Ganja Plant guitarist Nate Silas Richardson! Nate has compiled an absolute killer collection of tunes featuring early recordings, live performances and deep cuts by Desmond Dekker, Toots & The Maytals, Justin Hinds, The Heptones, Aswad and many, many more! Click on the cover to listen. 10Ft will be performing on NYE with Stick Figure at The Boston House of Blues - tickets are on sale now!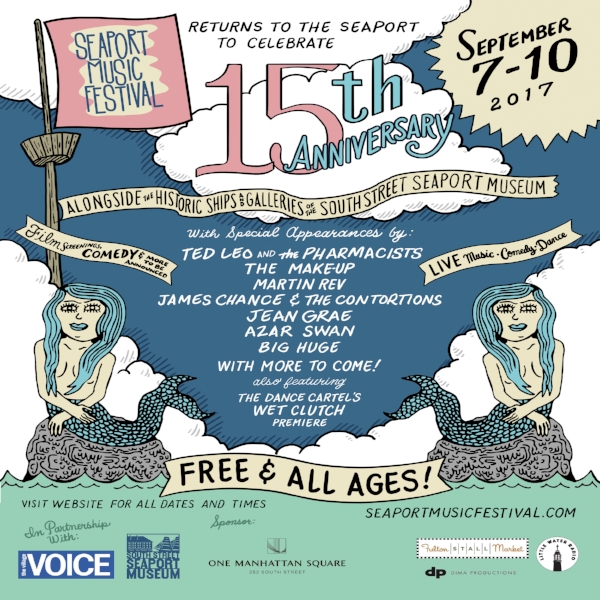 OCTOBER 25TH, 2017 - James Chance & The Contortions and Martin Rev will both be performing at the 15th Anniversary Seaport Music Festival - click on the poster for details and set times!
MAY 25TH, 2017 - Bad Brains' bass player Darryl Jenifer's solo art show is happening on June 8, 2017 - Make sure you RSVP to the event by clicking to the left!
MAY 20TH, 2017 - New show announced! Every rare 10Ft show is shrouded in excitement and anticipation, this one is no exception. Go get tickets now at The Sinclair!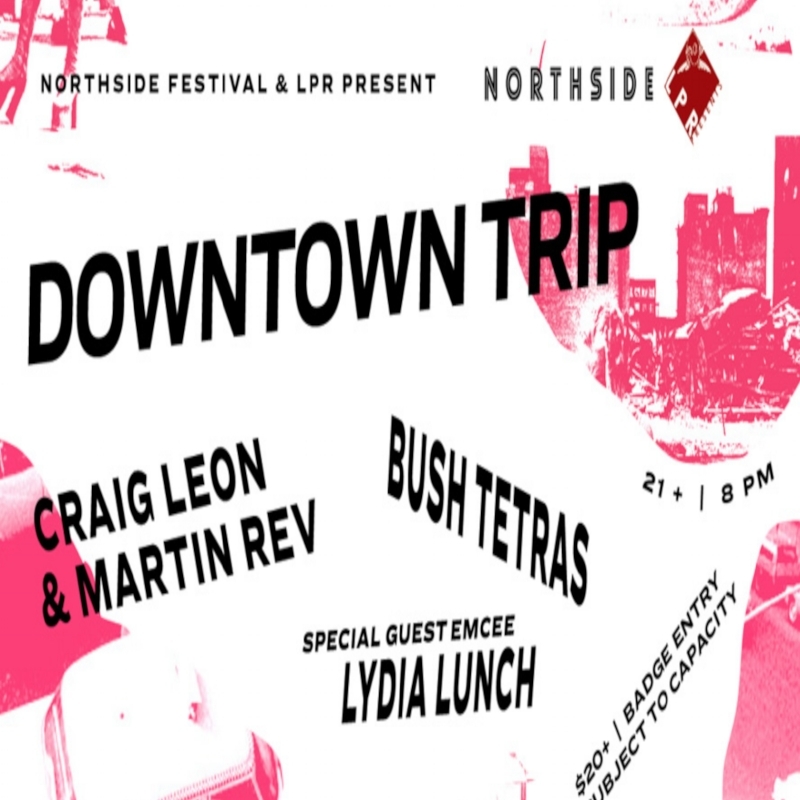 Northside Festival Downtown Trip!
APRIL 12TH, 2017 - An epic line up featuring Martin Rev with Craig Leon and Bush Tetras with special guest emcee Lydia Lunch! Taking place at MP Hall in Williamsburg on June 6.
DECEMBER 15TH, 2017 - Available in the shop now! 10 x 1" button bags - visit the ROIR Merch page to snag a bag!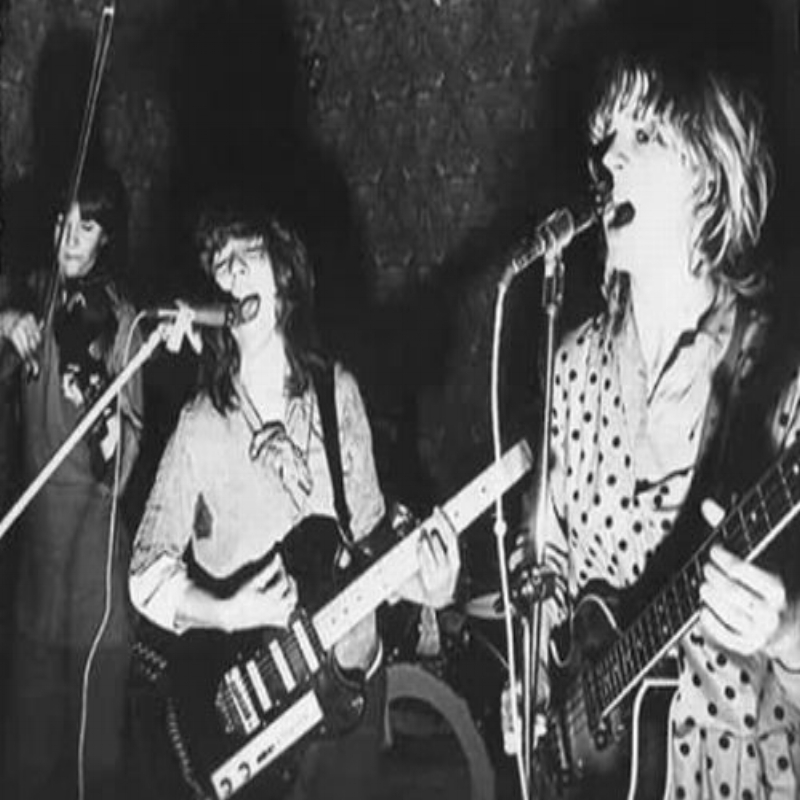 NOVEMBER 13TH, 2016 - Seminal post punk band The Raincoats' Gina Birch gave The Quietus an interview where she discusses BREXIT their legacy and her favorite Patti Smith album. Click HERE to read the inteview and HERE to watch The Raincoats perform with Angel Olsen at their recent sold out show in London!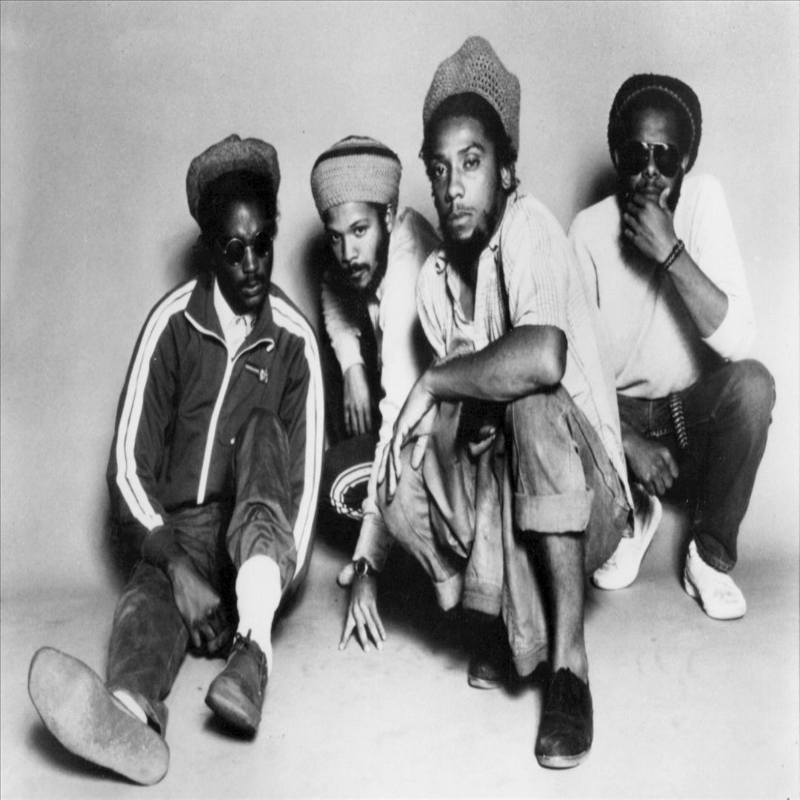 OCTOBER 19TH, 2016 - Congratulations to Bad Brains + MC5 on their nominations of the 2017 Rock and Roll Hall of Fame! Their influence on music is undeniable and there is no doubt these nominations are very well deserved.
Full list of nominees can be seen here!!
OCTOBER 14TH, 2016 - Glenn Branca performed to a packed house at Roulette in Brooklyn, New York last week where he premiered his new composition 'The Light (For David)' which was written in tribute to his musical hero and sometime collaborator, David Bowie. The New York Times interviewed Branca about the piece and his musical connection to Bowie. Click the pic to read.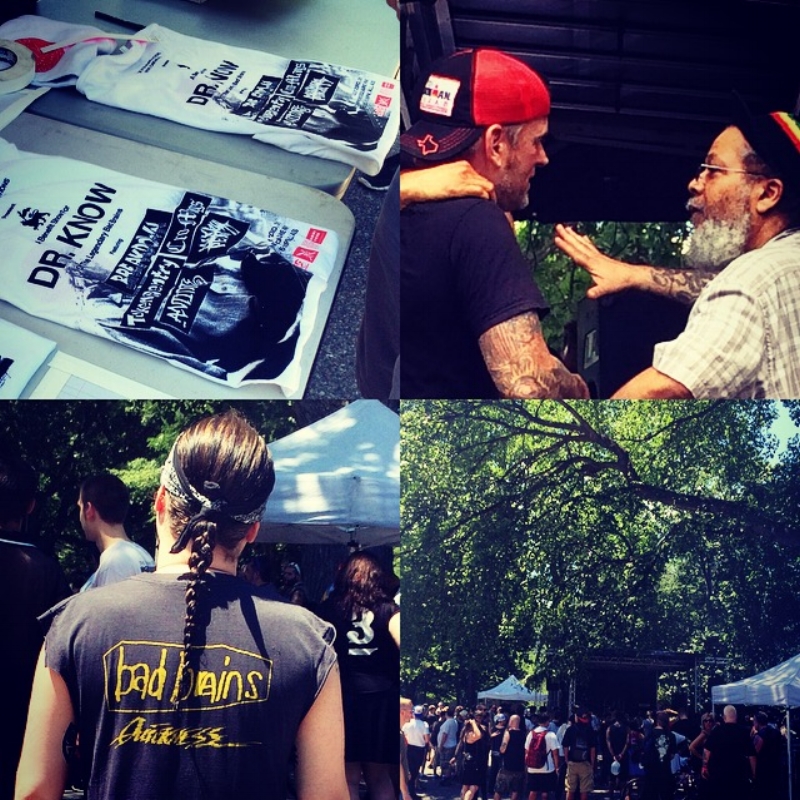 JULY 23RD, 2016 - Even though the temp topped out at 96 degrees in NYC today, thousands of fans turned up to Tompkins Square Park to support Dr. Know and watch some OG NYC hardcore. The sun was out but the bands were blistering! We saw so many old school and new school Bad Brains T's being repped out there, it was awesome to see everybody coming together to show love for Doc. Congrats to all the bands and organizers that made it happen!! You can still donate here:
www.gofundme.com/drknowbadbrains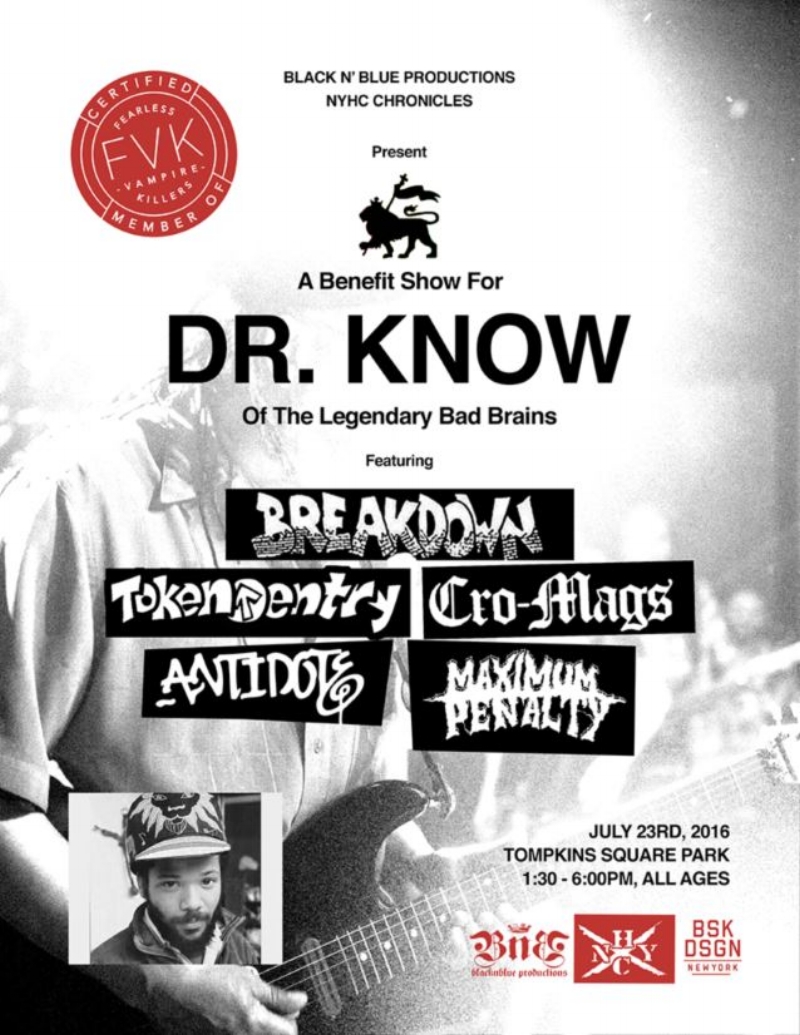 JUNE 15TH, 2016 - A benefit concert for Bad Brains' guitarist Dr. Know will take place on July 23rd at Tompkins Square Park and will feature an awesome line-up of bands - Breakdown, Token Entry, Cro-Mags, Antidote and Maximum Penalty!! We couldn't think of a better way to spend an afternoon while helping out Doc. please visit Dr. Know's go fund me page if you would like to make a donation towards medical expenses that were incurred after he was hospitalized last year for cardiac arrest. KEEP THAT PMA!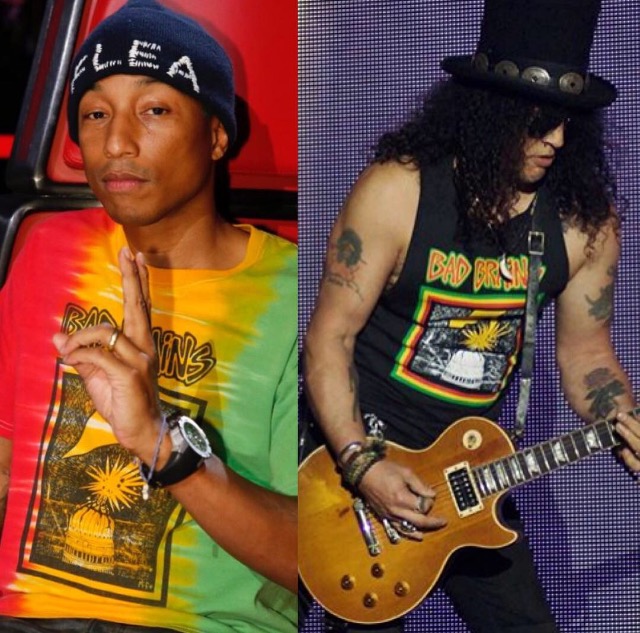 APRIL 28TH, 2017 - Both Pharrell and Slash were snapped repping their Bad Brains Capitol Building T-Shirts this week.Get your very own officially licensed one here!
APRIL 21ST, 2017 - The Afropunk Festival held in Brooklyn on August 27-28 has announced the line-up for 2016. And what a line up it is! Along with headliner Ice Cube there will be a SUPERJAM featuring members of Bad Brains, Fishbone and Living Color! Click here for tix and more info!
NOVEMBER 25TH, 2017 - Follow us on Instagram @roir_nyc - we will be posting info on exclusive pre-orders and new releases as well as some stories behind ROIR's classic cassette catalogue! Tag us for your chance to score some ROIR freebies!
APRIL 1ST, 2016 - Pat and Cynthia from Bush Tetras tell you what it was really like for a New York band starting and playing during the early 80's.. Click the pic for the article!